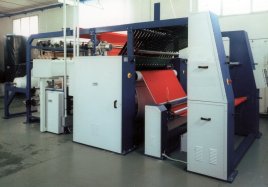 This drum laminating plant allows to obtain laminated textiles of different nature and composition in one single passage, while in two passages bi-laminated textiles are obtained.

They are largely used in the textile sector where products made up of more than two different materials are required.

This plant is the ideal solution to produce laminated textiles by granting at the same time the nearly absolute undeformability of textiles / materials to be laminated, by avoiding in this way any uncontrolled stretching of the very same materials.

It laminates textiles with:

very light jersey;

stretch textiles;

any padding of whatever thickness and consistence;

elastic films;

deformable and light materials.

This plant is produced upon clients' specific requests by composing and integrating the various available options as far as winding / unwinding, adhesive coating, cutters are concerned etc.