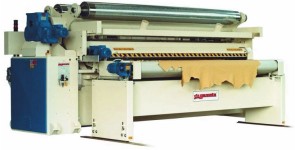 Jumbouniversal, with working width of 3400 mm, is the new model of roller coating machine for the finishing of upholstery hides, automotive, cars and clothing.

With a working speed that can reach 20 m/min, it is possible to create two-tone (tipping) and design effects, to apply hot and cold fat liquoring with oils and waxes, paraffin waxes on splits, buffed leather and full grain leather.

The rigid structure, and a computer studied geometry, guarantee:

An optimal functioning without any vibration.

A constant and uniform pressure on the whole engraved cylinder.

The use of only one doctor blade for any kind of finishing or of engraved roller.

Low maintenance and consumption of spare parts limited to the wear and tear parts.

The absence of chains in the engraved roller, pressure roller, and feeding belts drives is one of the technical choices made for the Jumbouniversal in order to eliminate play and to permit smooth and precise movement of the mechanical parts.

The kinematic motion of all units is achieved with a few components of high rigidity and great accuracy which ensures a rapid and simple operation.

The rubber transport cylinder is indipendent from the feeding and spreading belts: this technical solution compensates any large variations in the leather thickness, and allows a quick rectification of the rubber cylinder when necessary, it avoids as well the contact of chemical product with the transport belt, and guarantees a higher precision of the working thickness.

All the controls are placed on one control panel.
On the display of the control panel, besides visualizing the working speed, it is possible to set the machine following the guided menu.

OPTIONALS

Patented heating system to heat the doctor blade and the engraved roller at the same time and at constant temperature, to avoid any kind of blade deformation caused by thermic swellings between blade and engraved roller. This highly productive system allows to quickly reach the temperature of 100°C using very little oil and reducing the waste of energy. A special patented device allows the connection and disconnection of the heating joint to the engraved roller without the manual intervention of the operator, therefore, avoiding any burning risk.

A 100 lt capacity stainless steel tank with thermostatic temperature control for the preheating of waxes.

Motorized cylinder storage assembly fixed on top of the machine with a capacity of a further 6 rollers over and above the three already mounted on the bridge, allowing a quick change of the working cylinder.

An efficient suction hood that can be connected to the tannery central extraction system or, alternatively, to an indipendent low noise exhauster.

Detaching device to detach and automatically convey the leather to the drying tunnel. This device allows to reach a production speed of 20 m/min.