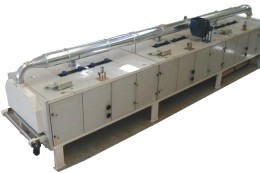 The new Rollmac drying tunnel is the outstanding result of a project involving university, specialized designers and end-users. The main aim of introducing to the market a new tunnel dryer was to satisfy an increasing demand of reduced energy consumption.

After positively installing and running the first prototypes, it is understand that the machine is surely bound to meet the most demanding needs of today's and tomorrow's markets.

This new drying tunnel integrates an high use flexibility and adjustment accuracy with strict criteria of energy consumption reduction. In comparison to the previous generation of dryers, the installed thermal power is about 15% lower. The internal design of the tunnel guarantees a perfect distribution and uniform temperature of the air delivered to the product, while its external insulation avoids heat dispersion. This means that the dryer can reach the same working parameters in terms of inside temperature and volume of circulated air with a lower energy requirement.

It is designed according to a new concept of hot air accumulation, where the air is prepared and mixed before its sending to the product. Each drying compartment is provided with four ventilators for a perfect mixing of fresh and recirculated air; its circulation can be split by means of air locks, thus enabling the user to bleed the wanted quantity. The volume and the pressure of the air delivered on and under the product surface can be continuously and precisely set.

In emergency, the whole air delivery is diverted from the product, so that any stop of the line will not cause any damage to the product. Once removed the problem, the line can be restarted under the same settings and working parameters, without any need to reset them. The hot air is hence immediately available at the same temperature level it had before the stop.

The dryer is designed to mount heat exchangers suitable for fluids (diathermic oil, steam), electricity or with gas burners. Big doors allows the tunnel internal inspection and cleaning. On request, it's available the semi-automatic threading-in system for release paper or textiles.