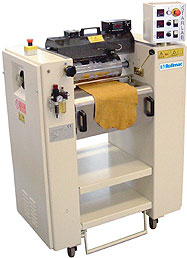 Starlab, user friendly and versatile, is an essential tool for laboratory use and for the production of small pieces.

APPLICATIONS

in REVERSE: impregnation and coating on splits and full grain buffed leather, application of oils and waxes, spreading of whatever compound on real leather, bonded leather, synthetic leather, textiles and other materials.

in SYNCHRO: any two-colour effect (tipping), design effects (even highly detailed), finish applications and base coats.

The machine can be used also for the finishing and coating of fabrics, paper and any other material on reels.

The adoption of innovative mechanisms and the use of high quality materials make it possible to exploit the whole of the productive potential of these machines with great reliability.

The absence of chains in the engraved roller and the pressure drive roller is one of the technical choices made for the new machine in order to eliminate play and to allow smooth and precise movement of the mechanical parts. The drive of all units is achieved with a few highly rigid and precise components which ensure rapid and accurate operation.

The high precision of manufacturing, ease and stability of adjustment leads to standards of quality comparable to the larger roller finishing machines. Wear and tear is limited to those parts where wear is normal (doctor blade and rubber blade).

Control of all machine functions is centralized in a large and accessible panel for the operator use. The machines are provided with wheels for rapid repositioning.

OPTIONAL EQUIPMENT

Some options, available upon request, make it possible to use the Starlab series for any kind of production:

Pigment pump complete with filter and related pipe systems for pigment distribution.

Infra-red roller heating system for the application of oil and wax with the digital display and electronic control of the temperature.
This innovative system distinguishes itself due to the low energy consumption, the speed of heating, the lack of noise, and the ability of melting waxes directly in the doctor blade.

Spreader for working width 800 mm.
This conveyor feed unit considerably increases the versatility of the machine for the processing of extremely soft and supple leather.

Starlab is available in nominal width of 400 - 600 - 800 mm.