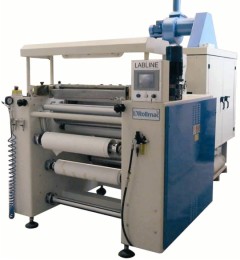 Labline est la ligne pilote multifonctionnelle pour laboratoire avec possibilté d'enduction par couteau ou cylindre, complète avec four et contrecollages mouillé ou sec.
Apte pour l'enduction transfer et directe.

It's a scale line where test runs, trials, samples and pre-production batches can be performed.

The machine is supplied complete of: two doctor coating blades profiles P 20 and R 30, one coating roller, pneumatic expansible shafts.

The coating head is equipped for the following operations:

Coating with doctor blade for "thickness" coating;

Coating with doctor blade for "on-air" coating;

REVERSE finishing with engraved roller for coatings on films or product. An important aspect: the REVERSE roller system enables the use of water based products. Excellent with foamed products too;

SYNCHRO applications with "multipoint" roller for special effect finishing on embossed synthetic leather, two tones effects, lacquering. Using a design roller, it's ideal for print finishes and special effects.

Thanks to laminating cylinders, composed by two nip rollers, Labline offers:

Wet lamination system (with application of adhesive, fabric lamination and reticulation in the dryer);

"One-coat" processing system (with application of adhesive, drying coupling at the dryer exit, melting of thermal adhesive by a heated cylinder).
EASY TO USE
Rapid changes of the coating head: changeovers from doctor blades to roller finishing system (and vice-versa) take very little time;

All thickness adjustments and pressure adjustments are easy to set and controlled by high precision instruments (centesimal comparators);

Machine controls are easily accessible.
LOW RUNNING COSTS OF THE PLANT
It cuts down on chemical products, electrical power, release and support paper;

Only one operator is required;

Very easy to install thanks to its compact size.
AVAILABLE OPTIONALS
Cylinder heating system;

Lower scraping blade for "on-air" coating;
Dipping mangle at line entry.