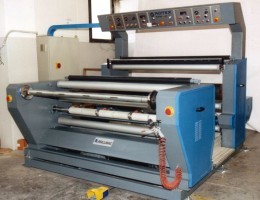 It is used to inspect release paper rolls. The inspecting operations are performed by unwinding the roll along an inspection table in order to visually verify the integrity of the paper and by rejecting any damaged parts (by cutting it from the roll).

The inspected paper is being rewound by means of a precision rewinder and ready to be used anew.

It is arranged with cutters to trim the roll edges and/or reduce the paper width.

It is available the metercounter option to rewind the reel in rolls of different lengths.