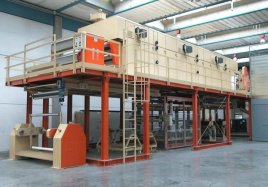 It is an extremely versatile plant since it allows to obtain either the printing and the finishing effect thanks to the combined use of both printing and REVERSE rollercoater.

The carriage unwinding unit and the accumulator group are arranged in the first phase, allowing the roll change without stopping the line (non stop production). After them, there are two printing machines which allow to obtain design printing and light coverings.

In the third head it is foreseen the installation of a roller-coater with three engraving cylinders, with the possibility to work both in REVERSE and in SYNCHRO modes. This head completes the finishing work by applying further designs, light finish, or, with the REVERSE system, heavy finish applications (150 g/m2), resins covers, lacquering, etc.

In addition to the above, this plant is complete with pulling units and with material tension adjustment devices. In the final part, after the finishing and drying phases, the product is re-winded on the revolver winding unit with double position.

The drying tunnel is composed of three modular units (length of 4 mts.) each one independent and having the possibility to precisely set the temperature and the ventilation. The tunnel has been designed in order to obtain a multiple runs in order to dry the finishing of the different working phases.

In the last drying phase a net-conveyor belt is foreseen to support and guide the product in order to avoid un-uniform pulls which may spoil its dimensional stability.

The roller change of the product is being made in a continuous way (non stop production) thanks to the horizontal accumulator situated in the winding area.

The line is completely controlled by PLC electronic system which guarantees the programming and the supervision of the whole line.