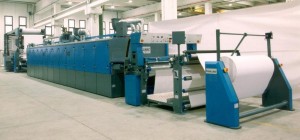 It has been designed for the self-adhesive coating of various materials, as (fabrics, PVC, papers, foams material, sheaths etc.), by using either water and solvent adhesives, with protection films in polyethylene or silicon paper.

This self-adhesive coating line is characterised by the possibility to continuously feed the support without stopping the line for changing the roller.

The coating head is extremely precise and allows the regular and constant quantity application of the material requested.

The drying oven is composed of modular units, each one of four meters, each one independent and provided of temperature and ventilation controls. In this way, a perfect drying of both water-based and solvent-based adhesives may be obtained.

The adhesive calender is complete with the centesimal thickness control to achieve maximum precision and can be as well equipped with a centring system of the material to be laminated.

The accumulator group allows the change of the roller to be laminated which is placed on the carriage without being obliged to stop the line processing (non-stop production).

The rolls of the finished self-laminated product, complete with the protection film, are being winded on the winding unit which is provided of a double winding position.

The line is fully controlled by electronic systems controlled by a PLC which guarantees the timing and control of the whole processing.