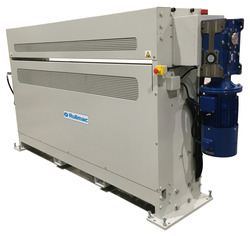 2-bowl vertical calander by hydraulic pistons. Suitable for ironing, smoothing, embossing and lamination of coated textiles.
The machine is available in nominal cylinder width of 1.800, 2.000 e 2.200 mm. in two versions:

- max pressure 20T


- max pressure 10T


It features a strong frame in painted steel with stiffening crossbeams, hydraulic pistons for opening/closing of lower rubberized roller diameter 400 mm., steel embossing/ironing roller diam. 300 mm., hydraulic oil gearcase.
Two micrometric adjustment units with centesimal precision, with independent adjustment LH-RH.
The upper roller (steel) is available for cooling by water circulation or heating by diathermic oil. It is driven by an A.C. gearmotor with direct drive.
The lower counter-roller is available with special rubber resistant to oil and solvents or with nylon sleeve.
The machine includes its electrical cabinet with digital display for controls and functions set-up.
A complete set of protections and grids guarantees the operator's safety during operation.