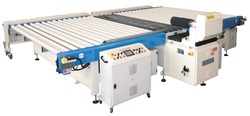 GlassLine is a new machine to enamel the edges of float glass sheets by means of a steel engraved cylinder.
It is a completely new project based on the well-known technologies of enameling by a reverse roller.
Glass line has been designed to provide answers to a peculiar need of glasses bound to building and interior decoration, i.e. the coating of a frame on the four edges of the sheet. Frame sizes: min. 5 mm max. 300 mm.
This operation is performed in 4 passes with the return and 90° rotation of the sheet between one pass and the next. After all four sides have been worked, the sheet is sent to the oven for drying.
The machines grants the possibility to enamel sheets with thicknesses from 2 mm. to 25 mm. and sizes up to 2.600 mm. In just one pass, a constant and uniform quantity of enamel can be applied up to 400 g/mq.
It is possible to coat by ceramic enamels and organic paints.
The system is composed by three elements: entry rollercoanveyor, coating module and exit rollerconveyor. To turn and rotate long sheets, it is available a side rollerconveyor, mounted on rails.